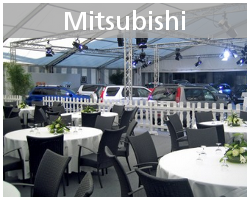 Mitsubishi Motors Europe
IPM Forum
For IPM Forum 200 CEO and sales manager were invited from all over Europe. Tent area of 1000 square meters new vehicle models and displays were attractively set in scene with light. In the auditorium, new sales and marketing initiatives were presented. Overall a spacious and stylish setting for communication with and among the guests. At the appropriate ending of the event, participants were invited to an exclusive regional location.



Mitsubishi SUV and Distributor Meeting


For the annually distributors meeting 80 invited importers from all over Europe come together and can attend to tests of various models and compare it with direct competitors.